Product details
Foxwell NT680 Pro Professional Diagnostic System
Diagnose ALL car systems on over 60 car makes, plus a wide variety of service functions
Professional Handheld Scan Tool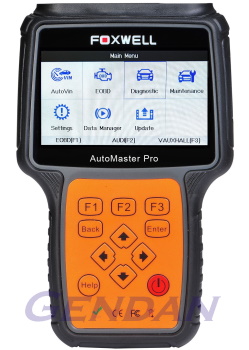 Product details
Professional diagnostics without the price tag
The Foxwell NT680 Pro is the successor to the best-selling
NT644 Pro
, and is a professional level diagnostic handheld tool, offering comprehensive system coverage for a vast array of car manufacturers.
The NT680 units are based on a new architecture, so they offer all the coverage and functions of the NT6x4 tools they replace, but are faster and easier to update.
There are 3 versions of the NT680 tool:
NT680 Lite: 4 systems coverage (Engine, SRS, ABS, Automatic Transmission), plus Oil service reset & EPB servicing.
NT680 All Systems: All systems coverage, plus Oil service reset & EPB servicing.
NT680 Pro: All systems coverage, plus multiple service functions including Oil, EPB, DPF, SAS, TBA and more.
This unit has been specifically designed for the European market, and includes many high-end features such as
Electronic Park Brake
wind-back,
Service Light
reset,
DPF
regeneration and
Throttle Body Alignment
functions.
Video & Screenshots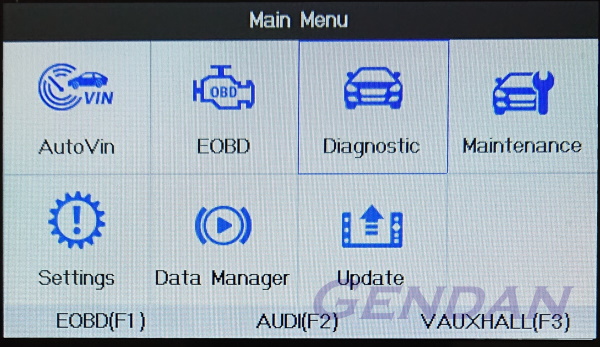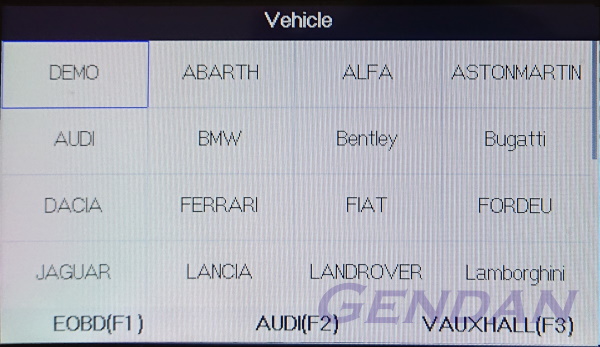 The tools are supplied to us from Foxwell with most of the software on a recent version. Currently this includes coverage for cars (with a standard 16-pin diagnostic port) from the following manufacturers:
Please note - not all functions are available on all models from a given manufacturer.
(Coverage as of August 2019)
D = Diagnostic coverage
O = Oil service reset coverage
E = Electronic Parking Brake coverage
P = DPF (Diesel Particulate Filter) functions
B = Battery replacement/validation functions
S = Steering Angle Sensor calibration
T = Throttle Position Sensor calibration
C = CVT (Constant Velocity Transmission) coverage
I = Diesel Injector Coding
Generic Coverage:

European Makes:

Abarth (D/O*/E)
Alfa Romeo (D/O*/E/P/S/I)
Aston Martin (D/O)
Audi (D/O**/E/P/B/S/T/I)
Bentley (D/E/O**)
BMW (D/O/E/P/B/S/T/I)
Bugatti (D/O**/E)
Citroen (D/O/E/P/B/S/T/I)
Dacia (D/O/S)
Fiat (D/O*/E/P/S/I)
Ferrari (D***)
Ford Europe (D/E)
Jaguar (D/O/E/P/B/S/I)
Lamborghini (D/E/O**)
Lancia (D/O*/E/P/S/I)
Land Rover (D/O/E/P/B/S/T/I)
Maserati (D***)
Maybach (D/E/S)
Mini (D/O/E/P/B/S/I)
Mercedes Benz (D/O/E/P/S/I)
Opel (D/O/E/P/B/S/T/I)
Peugeot (D/O/E/P/B/S/T/I)
Porsche (D/O/E/P/B/S/T/I)
Renault (D/O/E/B/S/I)
Rolls-Royce (D/O/E)
SAAB (D/O/E/T)
Seat (D/O**/E/P/B/S/T/I)
Skoda (D/O**/E/P/B/S/T/I)
SMART (D/O/I)
Sprinter (D/O/I)
Vauxhall (D/O/E/P/B/S/T/I)
Volkswagen (D/O**/E/P/B/S/T/I)
Volvo (D/O/E/P/B/S)
USA Makes:

Chrysler (USA only) (D/O/E/P/S/I)
Ford USA (D/E/B/S/I)
GM (D/O/E/P/S/I)



Asian Makes:

Acura (D/O/E/P/S/T/I)
Daewoo (D/E/P/S/T)
Daihatsu (D/S)
Ford Australia (D)
Holden (D/O/P/B/S/T)
Honda (D/O/E/P/S/T/I)
Hyundai (D/O/E/P/B/S/T/I)
Hyundai CV (D)
Infiniti (D/O/P/B/S/I)
Isuzu (D/O)
Kia (D/O/E/P/B/S/T/I)
Lexus (D/O/E/P/B/S/I)
Mahindra (D)
Mazda (D/O/P/B/S)
Mitsubishi (D/O/P/B/S/T/C/I)
Nissan (D/O/P/B/S/T/C/I)
Perodua (D)
Proton (D)
Scion (D/O/E/P/S/I)
Ssangyong (D)
Subaru (D/O/E/P/S/I)
Suzuki (D/O)
Tata (D)
Toyota (D/O/E/P/B/S/T/C/I)
Chinese Makes:

Brilliance (T)
BYD (T)
Chery (T)
Ford China (D)
Geely (T)
Great Wall (T)
Mazda China (D)
Roewe (T)



(* - Fiat / Alfa / Lancia / Abarth oil service reset for petrol models only)
(** - Oil service for VAG brands does not support cars using UDS/ODX protocols)
(*** - Ferrari / Maserati coverage currently only fault code reading & clearing)

Features
Extensive vehicle coverage for more than 65 American, Asian and European vehicle makes
Compatible with 2019 models on most makes
Deep vehicle system coverage for most electronic systems-
(typically Engine, ABS, Airbags, Immobiliser, Instrument Cluster, Climate Control, Power Steering, Automatic Transmission and more!)
Provides live sensor data from a wide range of systems
Merges graphs for easier fault diagnostics
Records live sensor data
Supports Electronic Parking Brake (EPB) features on approx 40 makes (see above)
Supports Oil Service Reset functions on over 45 makes (see above)
Supports DPF functions on over 30 makes (see above)
Supports Battery Configuration functions on over 20 makes (see above)
Supports Steering Angle Sensor functions on over 50 makes (see above)
Supports Throttle Position Sensor functions on approx 30 makes (see above)
Supports Constant Velocity Transmission (CVT) functions on 3 makes (see above)
Unparalleled EOBD / OBD-II functionality - supports ALL 5 OBD-II protocols and ALL 9 test modes
Easy-to-use with intuitive menu-driven operation
4.3 inch TFT colour display (480*272 pixel)
Strong housing tough enough to survive the workshop
FREE Lifetime Software Updates after registration
View recorded data on tool or copy to PC for printing
Package Contents
Foxwell NT680 Pro Scan Tool
1.5m OBD connection cable (16-pin EOBD/OBD-II connector)
USB update cable
Quick setup guide (full user manual available online)
16GB Micro SD Card (inside tool)
Tough plastic carry case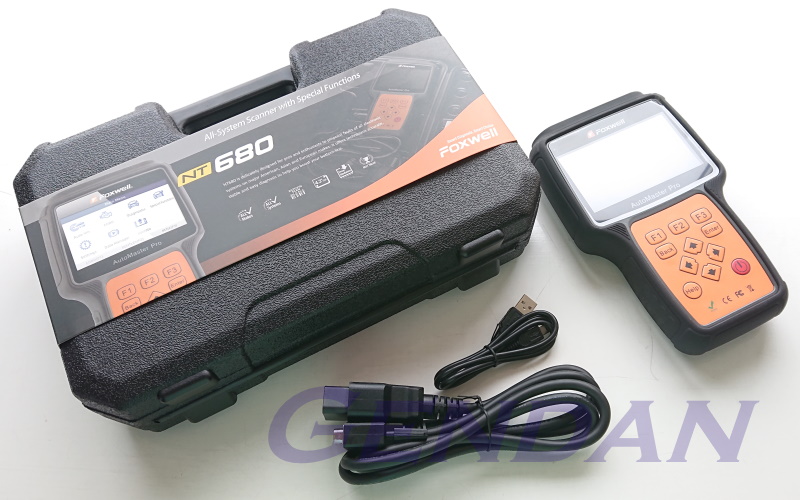 Product comparison
Are you confused by the different features and coverage of the Foxwell tools?
If so, please
click here
to go to our
Foxwell Tool Chooser
.
This is a page where you simply select the region of car manufacturers you want to cover (e.g. Europe, Asia), and we'll show you the suitable tools and what each tool offers.
Software updates
NT680 scan tools come with
free 'lifetime' software updates
!
(All the time the tool is manufactured or supported, updates will be free).
To apply software updates to the tool you will need a Windows PC/Laptop and an internet connection.
To register the tool you will also need access to your email account.
If we have sufficient time between your order being placed and being shipped, we will usually install the latest available updates for you on the day the order is shipped.
Registration part 1 - Create an account
You firstly need to create an account with Foxwell and register your tool.
This must be done through the FoxAssist update software, which can be downloaded for free from the Foxwell UK website.
Just select your tool from the list on the
Foxwell UK Updates page
and follow the instructions to download the latest version of FoxAssist.
The file downloaded will be a compressed zip file. Open that file and run the installer inside it.
Please note:
the installer will also install a Microsoft Visual C++ runtime - this is required for the software to run. It may require a Windows restart after installation before first use.
Once installed (following a Windows restart if required), open the FoxAssist software, and click the
Register
button.
Then on the registration form:
Fill in your email address and your choice of password.
Then press the 'Send Code' button, and wait for a confirmation message.
This will immediately email you a verification code (valid for 10 minutes) to confirm the email address is correct.

** Do NOT press the Send Code button more than once, as each press generates a new code, invalidating the previous one - it may take up to 10 seconds for the confirmation message to appear **

Check your email for that code, enter it, then click the Free Registration button to complete registration.
Once the details are accepted you will be returned to the main screen.
Enter your email address and password, then click 'Sign In'.
Registration part 2 - Add your tool to the account
Connect the tool to your PC using the supplied USB cable.
Once the Main Menu has loaded, select the 'Update' option on the tool.
The tool will enter update mode, and Windows should now see it as a 'USB Drive'.
In the FoxAssist software on the PC, the tool's serial number should now have been detected and will be displayed in the top-right corner.
Select the 'Activation' tab on the left side.
The tool's serial number should be displayed at the top of the page, next to an 'Activation' button.
Press the Activation button to activate the tool and register it to your account.
A 'successful activation' confirmation message should be displayed, then the tool's serial number will move to the 'Activated' section.
Now close the FoxAssist software.
Updating your tool
To update your tool, connect it via the USB cable and select the 'Update' mode as before.
Once Windows has detected the SD card drive, run the FoxAssist software and login again.
The software should automatically detect the tool and show you a list of installed software.
Any available updates will already be ticked (if none can be ticked, you are up to date!)
Click the Upgrade button to download and install available updates.
When all updates are installed, close FoxAssist, then press the 'Enter' button on the tool to return to the Main Menu.
You can now disconnect the USB cable.
Product reviews
If you've already purchased this product, you can submit a review
here
.
| | |
| --- | --- |
| 6 customers have reviewed this product so far, with an average score of 4.7/5 | |
| | | |
| --- | --- | --- |
| | Displaying reviews 1 to 5 of 6 | |
Review submitted on 04/01/2023 by Trevor
I have the Pro version, and its a great little unit, I use VDCS for all VAG cars, but someone came to me with a Ford, and try as I might it would not talk to VDCS even on ODB, so I bit the bullet and got the pro.

It does everything I want from a scan tool costing more, get one, you will not be dissapointed.


Review submitted on 14/01/2022 by [name withheld]
Brilliant product its so easy to use / update. Identifies and resolves the things anyone would want to do. I have had previous Foxwell scanners but want to upgrade my previous model for the regen feature in this product.
Service and speed of delivery is spot on, from order to delivery within a matter of single day.


Review submitted on 26/03/2021 by Antony Shields
delivery was amazing ordered one day got the next,
as for the the nt680 pro. As a weekend mechanic i enjoy working on my own car and the cheap readers are ok if you want just engine codes, but most cars now have a lot more going on, lots more sensors and stuff you can do at home if you knew what the multiple of lights on the dash was screaming at you. This tool is just as good as what most garages have got, its a little bit slower but does everything you need it to do .
easy set up ,free life time update, all makes of cars and at a reasonable price
any car enthusiast should have this and even some pro mechanics


Review submitted on 01/02/2021 by Ray Dodd
After a few email conversations with Mike West at Gendan I purchased a NT680 OBD2 scanner. I have found Gendan to be very helpful to date and would not hesitate to recommend them. Oh, and the confirmation of delivery was very funny too. Ordered one day and delivered the next. Came very well wrapped and had two small packs of sweets in with the scanner. Grandson enjoyed those. Thanks again for all your help in these very odd times. Take care and stay well.


Review submitted on 17/01/2021 by Nick Haigh
Not quite as intuitive or quick to use as I was expecting based on experience of other tools. Disappointed that it wouldnt retract the Electronic Parking Brake fully to the service position on a Renault Grand Scenic III, despite the claimed coverage, which led to some embarrassment with a customer. Good update service though so hope gaps like this will be filled in....


| | | |
| --- | --- | --- |
| | Displaying reviews 1 to 5 of 6 | |