Durametric Porsche Professional Diagnostic Kit

Durametric Porsche Professional Diagnostic Kit - USB interface & software


Product Code: DURAPRO

Product rating: Not yet rated

Review this product




Share this product




was £ 749.00

Includes VAT! - FREE delivery!

Availability:

Out of stock, sorry
Please email for details

£ 585.00

Availability:

Out of stock, sorry Please email for details
Product details
** Durametric covers Porsche models up to 2015. If you need to cover Porsche models newer than 2015, we recommend Po-COM as a great alternative to Durametric Pro. **
Please click here to see full product details
Po-COM supports Porsche models up to 2021
Durametric Porsche Professional Diagnostic Kits are designed for professionals who maintain more than three Porsches in their line of work (excludes race/track spec models).
Compatible with:
1989-1995 Porsche 928
1990-1994 Porsche 944S2 / 968
1990-1994 Porsche (964)
1994-1998 Porsche (993)
1999-2004 Porsche 911 (996)
2005-2013 Porsche 911 (997)
2012-2015 Porsche 911 (991) - except GT3
1997-2004 Porsche Boxster (986)
2005-2012 Porsche Boxster (987)
2012-2015 Porsche Boxster (981)
2003-2010 Porsche Cayenne (955 & 957)
2011-2015 Porsche Cayenne (958)
2005-2013 Porsche Cayman (987)
2014-2015 Porsche Cayman (981)
2010-2015 Porsche Panamera (970)
2014-2015 Porsche Macan (95B) - Fault Codes & Service Reset only
Package Functions:
Read and clear diagnostic fault codes
Reset service reminders
Display and record real-time actual values
Activates functions (Drive Links)
Shows ECU information
Used car analysis on Boxster, 996, 997, and Cayman
Supported systems: (if fitted)
DME (Engine)
Airbag
ABS
Tiptronic
Alarm
Seat Memory
Heating & A/C
Body Computer
Instrument cluster
and more...
The following link shows the full coverage of this powerful PC diagnostic package:
Durametric Model/Feature matrix
Please select the
'Screenshots'
link above to see pictures of the software in action.
Video demonstration of the package in use
There are also
additional video demonstrations
on the Durametric website.
Please be aware that this package does not offer key-coding
Features
Genuine Durametric USB-to-OBDII cable 1.8m
Installation instructions
High quality, blow-molded storage case
Future software updates
Adapter cable for earlier models included
Unlimited VIN Package
Product comparison
Below is a comparison of the
Porsche
packages we offer.
Please click a product link to view more information on the required product.
Package Name

Durametric Enthusiast

Durametric Enthusiast Plus

Durametric Pro

Po-COM

Price including fully-registered software
(inc VAT and delivery)

£299.00


Click here


£320.95


Click here


£595.00


Click here


£420.00


Click here

Connection to PC
USB
USB
USB
USB
Limit on number of cars
3-VIN Limit
3-VIN Limit
Unlimited
Unlimited
Coverage Years
1999-2015
1989-2015
1999-2015
1999-2019
Recommended for Professional Use
No
No
YES
YES
Coding Options
No
No
YES
YES
Free Software Updates
YES
YES
YES
YES
Acts as a "dongle" for software, No "Software Activation" required
YES
YES
YES
YES
Detachable USB Cable
No
No
No
YES
Hard plastic carry case included
YES
YES
YES
No
Product link
Click here
Click here
Click here
Click here
Screenshots
Fault Codes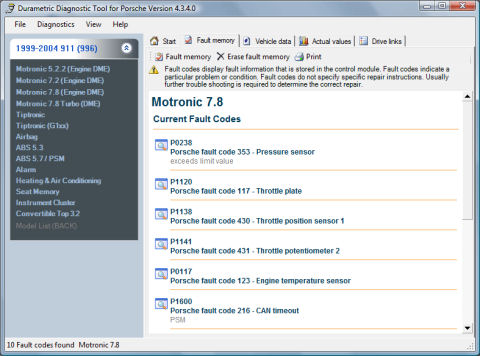 Live Data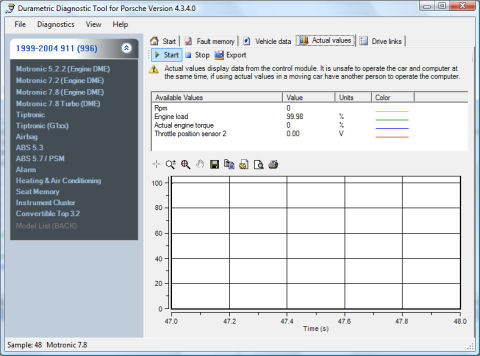 ECU Information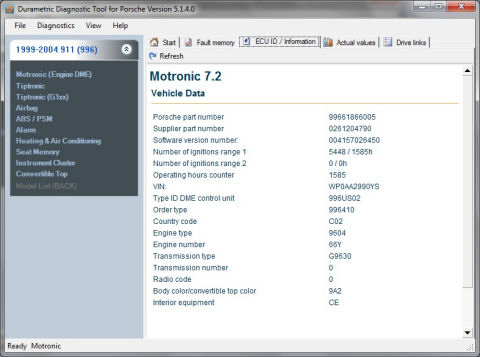 Product reviews
No reviews have been submitted for this product yet.
If you've already purchased this product, you can submit the first review
here
!