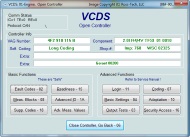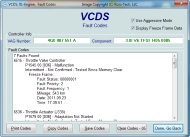 Please check the
product comparison chart
to select the required version
The power of VCDS® in a wireless interface!
Serious car diagnostics interfaces for Volkswagen, Audi, Seat and Skoda models!
The Ross-Tech VCDS package (previously known as VAG-COM or VAGCOM) turns your PC into a sophisticated VW/Audi diagnostic tool, that performs the functions of a factory VAG scan tools for VW, Audi, Seat and Skoda cars.
Until now, VCDS has always required a Windows PC and a cabled connection to function. The new
HEX-NET
®
interface changes that.
The HEX-NET has been completely re-designed from the ground up to be faster, more secure and more versatile. The HEX-NET is the fastest interface Ross-Tech have ever sold. It can perform AutoScans on 2005 and later models
up to 3 times faster
than the HEX-USB+CAN interface.
The HEX-NET interface supports USB and Wi-Fi connection so it can be used in several different ways:
All functions via USB connection to a Windows PC with desktop VCDS software
All functions via Wi-Fi connection to a Windows PC with desktop VCDS software
Basic functions via Wi-Fi "Access Point" connection to any computer or smart device using the web-based VCDS Mobile software
All functions via Wi-Fi "Infrastructure" and cloud connection to any computer or smart device using the web-based VCDS Mobile software (an existing Wi-Fi network with internet access is required for infrastructure mode)
For more details, please see this video:
The HEX-NET is available in 2 versions - an
"enthusiast" version
, with which use of advanced functions is limited to connection to 10 unique vehicles (10 VINs), and a
"professional" unlimited version
, which may be used on as many cars as you wish.
This product is the enthusiast version and may only be used for advanced functions on 10 cars.
For professional use, please see the
unlimited package
.
VIN Limits
Only some VCDS functions are restricted to use on a specific number of cars on the 10-VIN limited interfaces. Basic functions may be used on as many cars as you wish:
Unlimited functions
A VIN-Limited interface can do
Auto-Scans
,
Clear DTCs
, and look at
Measuring Values
on an unlimited number of cars.
If you directly connect to a control module (e.g. Select > 01. Engine), VCDS will ask if you wish to store the VIN, but selecting No will still allow the connection to continue.
Limited functions
Essentially functions that actually change things in the car are VIN-limited:
VCDS will never count a VIN toward the license limit without the user's explicit permission
.
It will always ask you first, thereby giving you the opportunity to decline to "register" a VIN in the interface.
For more information on VIN limits please see this
VIN FAQ
on the Ross-Tech forums.
General Information
Official
VCDS HEX-NET
Enthusiast interfaces from
Ross Tech LLC
, that work with:
VW/Audi/Seat/Skoda cars with the 16-pin diagnostic socket including models using CAN and UDS/ODX protocols (i.e. almost all from 1995 to Current Model Year)
Pre-1995 VW/Audi cars, when used with an additional 2x2 adapter (not included)
VCDS Windows Desktop Software
Using VCDS on a Windows PC, you can:
read and clear fault codes from all systems within the car, e.g. engine, airbag, ABS, instruments, parking sensors etc.
view live data from the sensors within the car
reset service lights (both fixed and variable service intervals)
read stored and intermittent fault codes
graph and log live data with the car running
automatically read fault codes from all car systems in a single search
perform basic setting functions, adaptations and soft coding
activate service functions, such as Electronic Park Brake (EPB) to allow brake pad changes
supports bi-directional output test and component actuation
VCDS software features:
over 25,000 fault code definitions
free software updates
VCDS-Mobile Software
Using
VCDS-Mobile
you can use your HEX-NET from most Wi-Fi enabled smart devices - (laptops, tablets, smartphones etc.), no matter what operating system is running on the device
In Access Point mode the HEX-NET appears as a Wi-Fi network that can be connected to by any smart device.
In this mode you can use the more basic functions of VCDS-Mobile (e.g. auto-scan, fault codes, live data) with no need for an internet connection.
In Infrastructure mode, the HEX-NET connects to your existing Wi-Fi network, so it can use your internet connection.
This allows VCDS-Mobile to connect to the cloud and enables the full suite of VCDS features, such as soft coding, basic settings, output tests, security access etc.
Please note:
VCDS-Mobile is currently still considered a "beta" release and so should not be relied upon on its own. If performing an essential task on a vehicle we would recommend having a Windows laptop available as a backup.
Technical support for VCDS-Mobile is only available through the
Ross-Tech Forums
.
Important Note:
Please note coverage for the Volkswagen Crafter / LT3 is not as comprehensive as other VAG models, as the diagnostics systems are based on the Mercedes Sprinter.
Ross-Tech have some function information on
this page
, but if you require coverage for a specific function we would recommend posting a question on the
Ross-Tech forums
(including the VIN of the vehicle) before purchasing to check support.
Package contents
Packages include:
Genuine Ross-Tech VCDS HEX-NET PC-to-car USB / Wi-Fi interface cable
USB link cable
VCDS HEX-NET 'Quick Start' Guide
VCDS Software updates at no additional charge
Foam lined plastic carry case
Please note that the HEX-NET interface does not ship with software on CD - the full, licensed version of the software can be downloaded on receipt of the interface (full details provided with interface)
Buy with confidence - Gendan Ltd are an official VCDS UK distributor
PC requirements
The minimum system requirements for the VCDS software are:
Desktop, laptop or notebook PC
1 GHz dual-core processor
1 GB RAM
Windows Windows 8.1 or Windows 10 (32 and 64 bit editions)
Approx. 100MB of hard disk space
USB port
Slower computers or Windows 2000, XP, Vista and 7 may work but are not officially supported.
More information
To visit the Ross Tech website for more information, please select an option below:
"Ross-Tech", "HEX-NET", "VCDS", "VCDS-Mobile" and the VCDS logo are registered trademarks of Ross-Tech, LLC in the USA, used with permission.
Gendan Limited are an
authorised distributor
of Ross-Tech products in the United Kingdom.
Our VCDS interfaces are supplied to us direct by Ross-Tech LLC in Lansdale, PA, USA.