Product details
Connect your iPhone to your car!
Covers 2001+ petrol cars
and 2004+ diesel cars

Wi-Fi, multi-protocol interface to connect your iPhone to any OBDII or EOBD compliant car (2001+ petrol car, 2004+ diesel car).

This ELM327 interface is compatible with a number of iPhone applications, such as Rev, Dash Command and OBD Car Doctor

Used with appropriate software, this interface†will allow you to connect to the engine management system on a compatible car, view engine fault codes and live engine sensor data.
Package comprises:
Wi-Fi OBD-II / EOBD car interface

Instruction guide
Software NOT included
Why take your car to the dealer for a code-read? You can now read and clear your engine fault codes on your own driveway!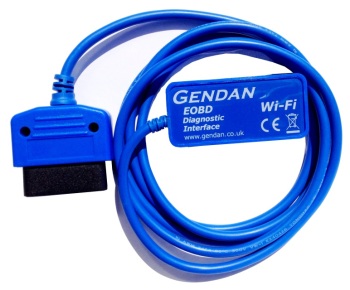 Which cars can I connect to?
This interface will allow you to connect to your EOBD or OBDII compliant car. These are petrol cars sold in Europe from 2001 and diesel cars sold from 2004.
Please email us if you would like to confirm compatibility with your car.

For information on the pins required in the diagnostic port for the support of each of the above protocols, please click here.
* Please note, this interface is designed to work with Apple iPhones only. We do not currently support it for use with smart phones running Android Operating Systems. Android does not support Ad-hoc networking as standard. Some Android users have rooted their phones to add this capability but this is not something we can assist with or support at this time *
Product reviews
No reviews have been submitted for this product yet.
If you've already purchased this product, you can submit the first review
here
!