USB 2.0 SD Card Reader

USB card reader for SD, SDHC, Mini SD, Micro SD, MS and M2 memory cards


Product Code: SDREAD

Product rating: Not yet rated

Review this product




Share this product






Price:

only

£ 5.95

Includes VAT! - FREE delivery!

Availability:

In Stock!
Shipped same working day.







Order within for Christmas delivery!

(when selecting next-working-day shipping. Excludes 'highlands & islands' locations)
Product details
This is a USB 2.0 SD card reader to allow you to connect an SD card to your PC.
Ideal for use to apply software updates and make copies of saved data from tools such as the
Foxwell NT644
,
MaxiDAS
and
MOT Pro
.
This is a simple plug and play device - just plug your SD card into the reader, plug the reader into the PC and Windows will automatically configure it as a removable drive - no software driver installation required!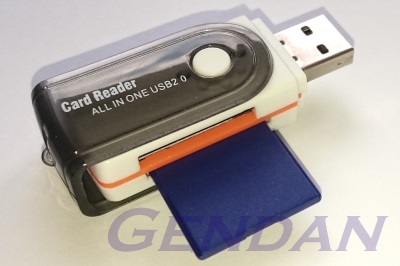 Features:
Supports SD, SDHC, Mini SD, Micro SD & Micro SDHC cards
Supports Memory Stick, MS Pro, MS Duo, MS Pro Duo, M2 (MS Micro) cards
Cabled USB connector, for easy connection to hard to reach USB ports
USB 2.0 support for fast data transfer
Works with Windows XP, Vista, 7 and 8 (including 64 bit editions)
Please note an SD card is shown in the product photo for illustration purposes only. This product is a card reader, and does not come with any memory cards.
Product reviews
No reviews have been submitted for this product yet.
If you've already purchased this product, you can submit the first review
here
!