Opel-Scanner for Vauxhall and Opel cars

Opel-Scanner Diagnostic System for Vauxhall and Opel cars


Product Code: OPELSCAN

Product rating:
(1 review)

Review this product




Share this product






Price:

only

£ 269.00

Includes VAT! - FREE delivery!

Availability:

In Stock!
Shipped same working day.




Product details
OpelScanner is a new fault diagnostic system for Vauxhall and Opel cars covering models from 1996 to approx 2017 (coverage years vary by model - see below). The PC-based tool offers high-end fault diagnostic features at a highly competitive price.
With the software running on your laptop and the dedicated USB lead connected to the car, you can now quickly find out why fault lights are on - and turn them off.

Ideal for the workshop, mobile mechanic or car owner.

Capabilities include:
reading and clearing fault codes on modules around the car

graphing and displaying live sensor information

actuator testing

ECU information
report printing
Which cars are covered?
Adam (2013-2017)

Agila-A (1998-2007)

Agila-B (2008-2014) Engine and Gearbox only

Ampera (2012 to 2015)

Antara (2007-2015)

Astra-F (1996-2002)

Astra-G (1998-2011)

Astra-H (2004-2012)

Astra-J (2010-2016)

Astra-K (2016-2018)

Cascada (2013 to 2017)

Corsa-B (1996-2000)

Corsa-C (2001-2012)

Corsa-D (2007-2014)

Corsa-E (2015 to 2019)

Crossland-X (2017 to 2019)

Frontera-A (1996-1998) (vehicles with 16-pin socket)

Frontera-B (1999-2003)

Grandland-X (2017 to 2019)

Insignia (2009-2018)

Insignia B (2017-2019) (only some engines)

Meriva-A (2003-2009)

Meriva-B (2010-2016)†

Mokka (2013 to 2018)

Omega-B (1996-2003)

Sintra (1997-1999)

Speedster/VX220 (2001-2006)

Tigra-A (1996-2000)

Tigra-B (2005-2010)

Vectra-B (1996-2001)

Vectra-C/Signum (2002-2010)

Viva (2015 to 2017)

Zafira-A (1999-2005)

Zafira-B (2005-2012)
Zafira-C (2012-2017)
Suzuki Grand Vitara (2005-2010)

Saab 9-3 CAN (2002-2009) - 1.9 Diesel EDC16 Engine is the only supported engine
Which control modules are covered?
Engine Control Unit

Automatic Transmission Control

ABS - Anti-Lock Brake System

ESP - Electronic Stability Program

Airbags

Immobilizer

Distributor Transmission 4WD

Traction Control

Body Control System

ATWS - Anti-Theft Warning System

Central Door Locking System

Multi/Color/Triple Info Displays

Instruments

Power Steering

Audio System

Electronic Climate Control

Sliding Roof

Electronic Seat Memory

Add-On Heater

Headlamp Leveling Device

and more...
Package includes
USB OpelScanner diagnostic lead (firmware updateable)
Software licence and activation instructions
12 months free software updates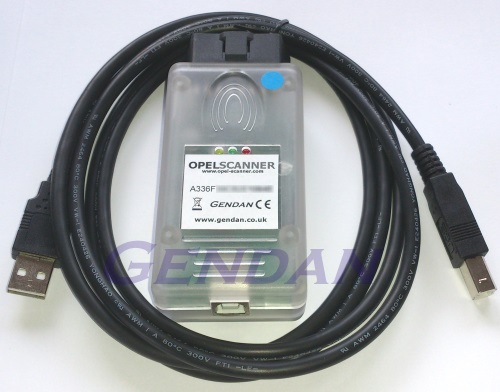 System requirements
Windows 7 and Windows 8 (including 64-bit versions), Windows 10

1GB Memory

1.0 Ghz or faster processor (2.0Ghz or faster for 2005 or newer cars)

100 MB available disk space

Available USB Port

Screen resolution of 800x600 or greater

Adobe Acrobat Reader (for reading and printing documentation)
Screenshots
Please click on the product image above for more images and screenshots.
Product reviews
If you've already purchased this product, you can submit a review
here
.
| | |
| --- | --- |
| 1 customer has reviewed this product so far, with an average score of 5/5 | |
| | | |
| --- | --- | --- |
| | Displaying reviews 1 to 1 of 1 | |
Review submitted on 29/11/2018 by Michael West
I found out about this product through the Corsa E forums as I found that in 2018 some new Vauxhalls dont come with Range and Fuel Consumption information turned on.

Well I brought this product and after getting the software installed and activated, I connected it to the car and within a few minutes I had all the extra functions I had known of in my previous Astras.

The ability to be able to do that plug the Diagnostics in the future if I need it, I think is great for the cost.

Plus a note to Gendan...I loved your dispatch email it made me chuckle :)


| | | |
| --- | --- | --- |
| | Displaying reviews 1 to 1 of 1 | |