Product details
The Foxwell NT614 has now been superseded by the NT680 Lite.
The NT680 Lite offers exactly the same features in a slightly different handheld unit based on new electronics.
The NT614 is still supported by Foxwell and will continue to receive software updates, but is no longer available to purchase.
Please
click here for more details
Foxwell NT614 Enthusiast Level Diagnostic System
Diagnose 4 car systems on over 60 car makes: Engine, SRS (Airbag), ABS and Automatic Transmission coverage.

Enthusiast / Small Garage Handheld Scan Tool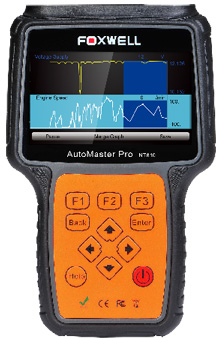 Product details
Enthusiast level diagnostics without the price tag
The Foxwell NT614 is a diagnostic handheld tool suitable for enthusiasts and small garages, offering 4-system coverage for a vast array of car manufacturers.
The tool will read and clear fault codes from the
Engine
,
SRS (Airbag)
,
ABS
and
Automatic Gearbox
controllers on a range of European, Asian and American cars.
The NT614 now also includes
Oil Service Reset
and
Electronic Parking Brake
functions across a range of makes too!
Sample Screenshot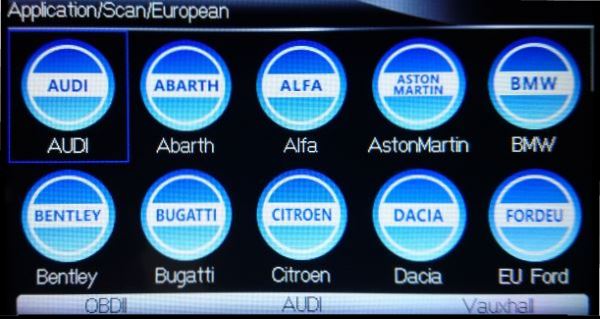 The tools are supplied to us from Foxwell with most of the software on a recent version. Currently this includes coverage for cars(with a standard 16-pin diagnostic port) from the following manufacturers:
D = Diagnostic coverage
O = Oil service reset coverage
E = Electronic Parking Brake coverage

Generic Coverage:

European Makes:

Abarth (D/O/)
Alfa Romeo (D/O*)
Audi (D/O**/E)
Bentley (D/O**/E)
BMW (D/O/E)
Bugatti (D/O**/E)
Citroen (D/O/E)
Dacia (D)
Fiat (D/O*)
Ford Europe (D/E)
Jaguar (D/O/E)
Lancia (D/O*)
Land Rover (D/O/E)
Maybach (D/E)
Mini (D/O/E)
Mercedes Benz (D/O/E)
Opel (D/O/E)
Peugeot (D/O/E)
Porsche (D/O/E)
Renault (D/O/E)
Rolls-Royce (D/O)
SAAB (D/O/E)
Seat (D/O**/E)
Skoda (D/O**/E)
SMART (D/O)
Sprinter (D/O)
Vauxhall (D/O/E)
Volkswagen (D/O**/E)
Volvo (D/O/E)

(* - Fiat / Alfa / Lancia / Abarth oil service reset for petrol models only)
(** - Oil service for VAG brands does not support cars using UDS/ODX protocols)

Asian Makes:

Acura (D/O/E)
Daewoo (D)
Ford Australia (D)
Holden (D/O)
Honda (D/O/E)
Hyundai (D/O/E)
Isuzu (D/O)
Infiniti (D/O)
Kia (D/O/E)
Lexus (D/O/E)
Mazda (D)
Mitsubishi (D/O)
Nissan (D/O)
Perodua (D)
Proton (D)
Scion (D/O/E)
Subaru (D)
Suzuki (D/O)
Toyota (D/O)



USA Makes:

Chrysler (USA only) (D/O)
Ford USA (D/O/E)
GM (D/O/E)
Features
Extensive vehicle coverage for more than 60 American, Asian and European vehicle makes
Compatible with 2016/2017 models on most makes
Vehicle system coverage for four electronic systems - Engine, ABS, Airbags and Automatic Transmission
Oil Service Reset and Electronic Parking Brake service functions for many makes
Provides live sensor data from a wide range of systems
Merges graphs for easier fault diagnostics
Records live sensor data
Unparalleled EOBD / OBD-II functionality - supports ALL 5 OBD-II protocols and ALL 9 test modes
Easy-to-use with intuitive menu-driven operation
4.3 inch TFT colour display (480*272 pixel)
Strong housing tough enough to survive the workshop
FREE Lifetime Software Updates after registration
View recorded data on tool or copy to PC for printing
Package Contents
Foxwell NT614 Scan Tool
1.5m OBD connection cable (16-pin EOBD/OBD-II connector)
USB PC-link cable
Printed instruction manual
8GB SD Card (inside tool)
Tough plastic carry case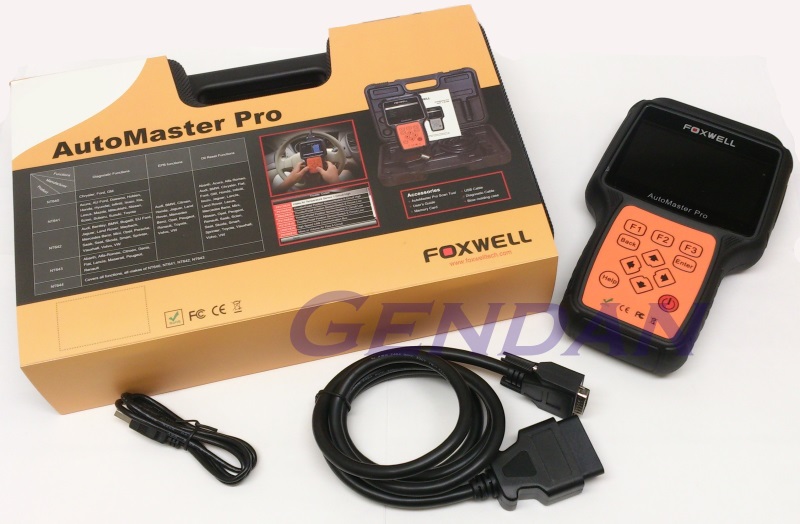 Software updates
NT614 Pro tools purchased after July 3rd 2017, or within an active subscription period on that date, now come with
free 'lifetime' software updates
!
(If you purchased your tool prior to that date you would have had 18 months of free software updates - if your updates have expired you just need to purchase an update package once to be moved onto lifetime updates).
To apply software updates to the tool you will need a Windows PC/Laptop and an
SD Card Reader
.
If we have sufficient time between your order being placed and being shipped, we will often install the latest available updates for you on the day the order is shipped.
Registration part 1 - Create an account
You firstly need to create an account with Foxwell and register your tool.
This can be done through the FoxScanner update software, which can be downloaded for free from the Foxwell UK website.
Just select your tool from the list on the
Foxwell UK Updates page
and follow the instructions to download the latest version of FoxScanner.
The file downloaded will be a compressed zip file. Open that file and run the installer inside it.
Please note:
The installer will sometimes try to install FoxScanner to the D:\ drive. In most cases you will need to change this to C:\
Once installed, open the FoxScanner software.
Click the Register button and complete the registration page to create your Foxwell account.
Registration part 2 - Add your tool to the account
To register the tool, you will need the tool's Serial Number and 'Register Password'.
You can find these on the tool by selecting
Setup > About
.
When logged into FoxScanner, click the 'Register Products' icon.
On the 'S/N Registration' tab, put a tick in the box marked '001' then select your tool in the Part Number column.
Enter the product's serial number and password, then click Submit.
A confirmation box should be shown confirming successful registration.
Updating your tool
Now close the FoxScanner software, remove the SD card from your tool (making sure the tool is turned off first!) and connect it to the PC via an
SD card reader
.
Once Windows has detected the SD card, run the FoxScanner software and login again. click the 'My Updates' button.
After a few seconds, a list of the available software updates will appear.
Ensure that the correct serial number is displayed in the drop-down list.
Click the Update button to download and install available updates.
Please note:
the update process can take a long time. If your tool has not been updated recently, it may take a few hours for the update process to complete. Once the update has completed, don't forget to 'safely remove' the SD card in Windows before unplugging it, to avoid the possibility of data corruption.
Renewals
If your updates ran out before July 3rd 2017, your tool will continue to function - it will not 'time out' - but you will no longer be able to access the update servers.
Should you wish to continue updating your tool, you will need to purchase an
update package
, which will move you onto free lifetime updates and restore your access to the update servers.