Foxwell NT415 Electronic Park Brake Tool - B Grade

Foxwell NT415 EOBD, OBD-II and Electronic Parking Brake (EPB) Servicing Tool - Factory 2nd


Product Code: FXNT415CL





Share this product






Price:

only

£ 99.95

was £ 134.95

Includes VAT! - FREE delivery!

Availability:

In Stock!
Shipped same working day.




Product details
B Grade / Factory Second Clearance Units
We have a small number of NT415 units with minor cosmetic defects. Typically these may be:
- Screen defects (1 or 2 'dead pixels', or slight over/under brightness of the back-light).
- Minor scratches on the casing or the LCD screen.
- Non-functional USB port (the USB port is not used for data transfer or updating - it only serves as a way of powering up the tool away from the car - so this does not prevent the tool working on a car or installation of software updates).
The tools are still
fully functional
when connected to a car, and still come with a
full 12 month warranty
and
free software updates for the lifetime of the tool
.
Electronic Parking Brake coverage for over 30 car makes!

<! GENDAN > The Foxwell NT415 has been specifically designed to offer professional Electronic Parking Brake servicing coverage across a wide range of car manufacturers, at an affordable price - even for small garages and enthusiasts.
The tool also features a comprehensive EOBD / OBD-II mode, to offer engine management fault code reading and live data from any EOBD compliant car (all* petrol cars from 2001 onwards, diesel cars from 2004 onwards).

The tools are supplied to us from Foxwell with most of the software on a recent version. Currently this includes coverage for cars (with a standard 16-pin diagnostic port) from the following manufacturers: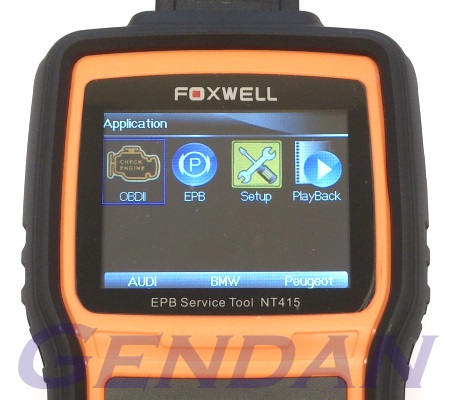 European Makes: <! GENDAN >

Audi
Bentley
BMW
Bugatti
Citroen
Ford (EU)
Jaguar
Land Rover
Maybach
Mercedes Benz
Mini
Opel
Peugeot
Porsche
Renault
SAAB
Seat
Skoda
Vauxhall
Volkswagen
Volvo

Asian Makes: <! GENDAN >

Acura
Honda
Hyundai
Kia
Lexus
Scion
Toyota







American Makes: <! GENDAN >


Chinese Makes: <! GENDAN >

Features
Electronic Parking Brake servicing coverage for over 14 Asian and European vehicle makes
Compatible with 2012/2013 models on most makes
Deactivates and re-activates brake control system
Retracts calipers for brake pad replacement
Advances calipers after servicing to the original position, without affecting current calibration
Reads and clears trouble codes (fault codes)
Turns off brake warning light
Initializes the wear indicator if required when new pads installed
Diagnoses EPB/SBC caliper functionality
Resets the brake pad thickness after service on Audi A8
Performs ECU controlled brake fluid change
Shows ECU information
EOBD engine management coverage for all* UK 2001+ petrol and 2004+ cars
EOBD / OBD-II functionality - supports ALL 5 OBD-II protocols and ALL 10 test modes
Read EOBD / OBD-II live sensor data
Merge live data graphs for easier fault diagnostics
Easy-to-use with intuitive menu-driven operation
Large TFT colour display (240 x 320 pixels)
Strong housing tough enough to survive the workshop
FREE lifetime software updates after registration
(* - EOBD engine management coverage applies to passenger cars with fewer than 10 seats and a Gross Vehicle Weight rating of less than 2500kg, registered from new within an EU member state since 2001 for petrol cars and 2004 for diesel cars)
Package Contents
Foxwell NT415 EPB Reset Tool
1.5m OBD connection cable (16-pin EOBD/OBD-II connector)
USB cable (to power up tool when not plugged into a car)
Printed instruction manual
4GB SD Card (inside tool)
Soft carry case