Foxwell DPT701 Digital Pressure Tester

Foxwell DPT701 Digital Fuel, Oil and Gas Pressure Tester


Product Code: FXDPT701

Product rating: Not yet rated

Review this product




Share this product




Includes VAT! - FREE delivery!

Availability:

Out of stock, sorry
Please email for details

£ 399.00

Availability:

Out of stock, sorry Please email for details
Product details
The Foxwell DPT701 is handheld digital pressure tester.
It offers modes to read oil pressure, petrol and diesel compression, petrol injection pressure, common rail diesel injection (low pressure circuit only), and a general manometer mode. It can also be used to measure pressure for any gas or non-corrosive liquid, up to a maximum of 80 bar (1160 PSI).
The DPT701 also comes with a wireless USB dongle to connect to a Windows PC, allowing you to stream results directly to a live graph on your PC screen, and to print reports via your usual PC printer.
Features
Complete test functions:

Oil pressure test
Petrol compression test
Diesel compression test
80 bar (1160 PSI) manometer
Petrol injection pressure test
Low pressure common rail test
(To test the common rail high pressure circuit, look at the Foxwell CRD700 unit)

Stores maximum pressure value
Wireless data link (USB dongle included) to stream live data and print reports via a Windows PC
Detachable sensor
Large easy-to-read backlit LCD
Monitors its battery level continuously to avoid incorrect measurements
Extremely easy to use with user friendly menu
Requires 1 x 9 volt PP3 / 6LR61 battery (not included)
Package Contents
Foxwell DPT701 Digital Pressure Tester
Detachable high pressure sensor (approx 2m wire length)
Wireless USB PC data link dongle
4 Adaptors
2 spare fuses
1 roll of PTFE sealing tape
User manual
Software CD
Tough plastic carry case
Requires 1 x 9 volt PP3 / 6LR61 battery (not included)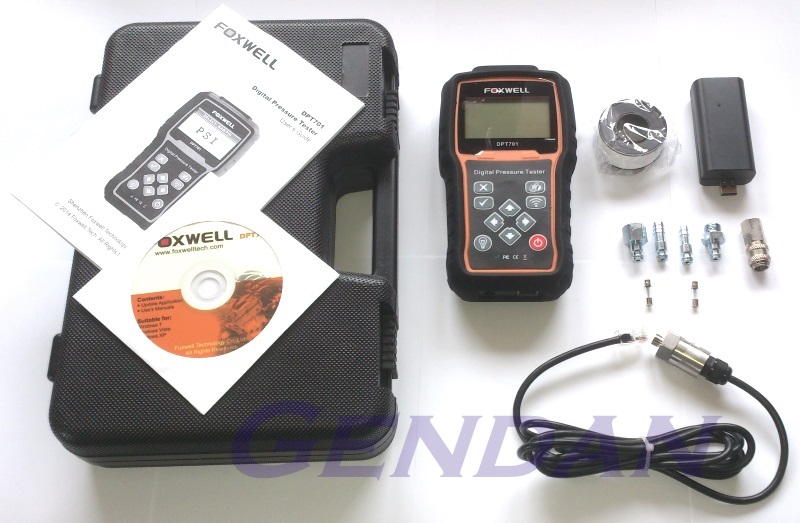 Product reviews
No reviews have been submitted for this product yet.
If you've already purchased this product, you can submit the first review
here
!