Gendan EngineCheck Pro Wi-Fi package

Gendan EngineCheck Pro Wi-Fi Wireless Engine Diagnostics Package


Product Code: ENG327W

Product rating: Not yet rated

Review this product




Share this product






Price:

only

£ 99.95

was £ 109.94

Includes VAT! - FREE delivery!

Availability:

In Stock!
Shipped same working day.




Product details
Latest 3.1 version
Gendan EngineCheck Pro Wi-Fi diagnostics package
Tired of looking at expensive tools? Look no further - wireless engine-management diagnostics on all 2001+ petrol and 2004+ diesel cars for less than £115!


Features:
Read and clear stored and pending engine fault codes
Switch off Check Engine light
Read freeze-frame data
Built-in database of over 21,000 fault code definitions (generic and manufacturer-specific)
Print customer fault code reports
View live engine information in meter or graph format
Software written and supported by us here in the UK
Recording and playback of sensor data

Save recordings to CSV file
View on-board test completion status (inspection/maintenance tests)
View fuel-system status
Package includes Wi-Fi diagnostics interface, carry case, software on CD and user manual
Visit our
EngineCheck Pro website
for full details and screenshots
Package contents:
ELM327 v1.4 Wi-Fi interface


1.8 metre cable to connect to your car (16-pin EOBD/OBDII standard socket) - allowing you to position the Wi-Fi transceiver for optimal range


EngineCheck Pro software on CD, with activation and licence details


Printed manual and quickstart guide


Plastic carry-case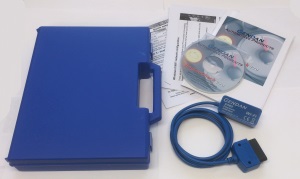 16 June 2006
EngineCheck wins PCW Recommended Award
"Gendan EngineCheck 1.4 is a great low-cost tool for car enthusiasts that could quickly pay for itself"
PC requirements
The minimum system requirements for the Gendan WiFi EngineCheck software are:
Wi-Fi enabled Desktop, laptop or notebook PC capable of running Windows Vista or newer
(at least a processor running at 800Mhz or higher with 512MB RAM)
Windows Vista, 7 or 8
Approx. 25MB of hard disk space
Product returns
Please note the price of this item includes a licence for the EngineCheck Pro software, which requires activation before use.

If the product is returned to us as an unwanted item, or because it was purchased for an incompatible vehicle, we cannot provide a refund of the cost of the software (£57.14) once an activation code has been requested.

The remainder of the cost of the item may be refunded, in line with our standard returns policy.
Software updates
Software updates are free for existing customers.
You can check the software version of the latest release, download updates and manage your activation codes online by registering with our free
software control panel
.
Product reviews
No reviews have been submitted for this product yet.
If you've already purchased this product, you can submit the first review
here
!