ATEQ VT56 Comprehensive TPMS Service Tool

ATEQ VT56 Comprehensive TPMS Service & Programming Tool


Product Code: ATQVT56

Product rating: Not yet rated

Review this product




Share this product






Price:

only

£ 895.00

was £ 995.00

Includes VAT! - FREE delivery!

Availability:

In Stock!
Shipped same working day.




Product details
The ATEQ VT56 is the all-in-one comprehensive TPMS (Tyre Pressure Monitoring System) tool with coverage for American, European and Asian vehicles. Its advanced features and functions provides complete TPMS management. It accurately activates and decodes TPMS sensors and displays the data or any faults.
The tool uses a simple icon-driven interface, and so is easy to use even for a novice.
Features
Comprehensive make, model, year specific relearn procedures
Programs all leading aftermarket programmable sensors
Activates all OEM sensors
View sensor information for all four tyres including sensor ID, PSI, Mhz, temperature, battery life.
Decodes sensor information and helps troubleshoot faulty sensors
TPMS reset via OBD2 on more than 60% of car models
Retrieves and decodes TPMS DTC (fault code) information
Display OBD2 socket location on tool screen
TPMS sensor part number look-up (OE and aftermarket)
Saves TPMS service history on-board and on PC
Built-in TPMS service help and training
Programs sensors from historical data
Programs sensors by wheel set
Includes OBDII routines to reset the ECU in <2 min
Worldwide TPMS technical support
4.3" Colour Screen
Displays TPMS data for up to 7 tyres in one screen
Checks RF Remote Keyless Entry (keyfob) function - displays signal strength and frequency
(315MHz & 433 MHz keyfobs supported)
Frequently updated with new features, vehicles and sensors
Built-in rechargeable battery Ė no batteries to purchase
UK mains plus adaptor included
12 months free updates included (from date of purchase)
Strong housing suitable for tough workshop environments
Package Contents
ATEQ VT56 TPMS Tool
OBD2 module with cable
UK mains charger
Quick start guide
Hard plastic carry case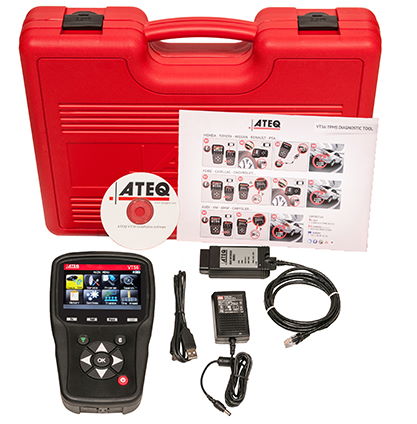 Product reviews
No reviews have been submitted for this product yet.
If you've already purchased this product, you can submit the first review
here
!