ELM Chipset Interfaces:
Windows 98/ME USB Driver Installation

Interface setup is very straightforward, and comprises 3 stages:
Download and install the EngineCheck diagnostics software
Install the drivers for the interface
Activate the EngineCheck software
---
Stage 1: Download and install EngineCheck

Follow the download instructions emailed to you for the EngineCheck software - if you have purchased an ELM interface from us but not received this email, please email us at support@enginecheck.co.uk

- Once you have downloaded the EngineCheck setup file, double-click it to begin the setup.

- Follow the onscreen instructions to complete the setup.

- Once the setup has finished, please continue to Stage 2.

---
Stage 2: Setup the drivers

Note: screenshots shown from Windows Millennium Edition (WinME) - Windows 98 may look slightly different, but the process will be the same.



Checking the driver installation

To confirm that the drivers are correctly installed you need to open the Windows Device Manager. To do this:
- Click on Start > Settings > Control Panel

- Double-click on "System"


(if "System" does not appear on the list, there should be a link on the left-hand-side marked "If you don't see an option you are looking for, view all Control Panel options".
Click on that link. You should then be able to see System).

- When the System Properties window opens, Select the "Device Manager" tab

- Click the + symbol next to the Ports (COM & LPT) heading

- The device should appear with the label "USB Serial Port (COMx)"

Please make a note of the number shown after the word COM - if EngineCheck is not able to locate your interface automatically, this will be the COM port number you will need to specify in the software.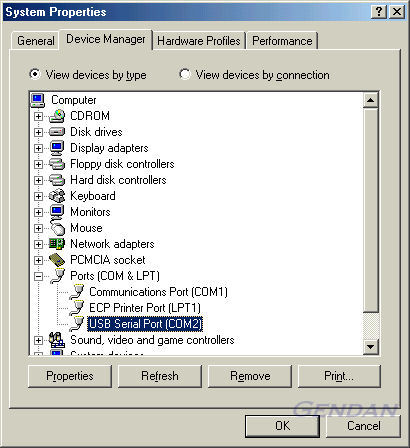 ---
Stage 3: Activate the software

The first time you run the software, you will be required to enter your activation details - these details will be in your welcome email.


Double click the EngineCheck icon, or select:


Start > Programs > EngineCheck > EngineCheck

...from the Windows Start menu.

- The activation window will appear, and will show you a unique "PC code" number generated by your PC (as illustrated)

- Go to www.gendan.co.uk/activate and enter the details from the email, and your PC code.
Your activation keys will then be emailed to you.


(If you do not receive this email within a few hours, please contact us on 01792 588002)

- Enter your details and click Activate

PLEASE NOTE: the activation details are case-sensitive, so must be entered exactly as shown on the activation email.


The main window should then appear.

Information on using the software can be found in the Quick Start Guide installed on your PC.