Foxwell NT600 20+ Makes 4-System Code Reader

Foxwell NT600 Home User Fault Code Reader - Engine, SRS, ABS and Auto Transmission on 20+ makes


Product Code: FXNT600

Product rating: Not yet rated

Review this product




Share this product






Price:

only

£ 90.00

was £ 99.95

Includes VAT! - FREE delivery!

Availability:

Discontinued

Product is no longer available
Product details
** The Foxwell NT600 has now been superseded with the Foxwell NT414 Pro Scan Tool. **

Please click here for details on the NT414 Pro
Read and clear fault codes on up to 4 car systems on 24 car makes:
Engine, SRS (Airbag), ABS and Automatic Transmission coverage.
Home User / Enthusiast Handheld Code Reading without the price tag
The Foxwell NT600 is a diagnostic handheld code reader suitable for home users and enthusiasts, offering coverage for up to 4-systems for a wide variety of car manufacturers.
The tool will read and clear fault codes from the
Engine
,
SRS (Airbag)
,
ABS
and
Automatic Gearbox
controllers on a range of European, Asian and American cars.
The tools are supplied to us from Foxwell with most of the software on a recent version. Currently this includes coverage for cars (with a standard 16-pin diagnostic port) from the following manufacturers:
(Please note, coverage years listed in brackets ( ) are approximate).
Generic Coverage:

OBD-II / EOBD (2001+ petrol, 2004+ diesel)



European Makes:

Audi (1996-2010)
BMW (2001-2008)
Citroen (1998-2009)
Fiat (1999-2008)
Mercedes Benz (2001-2011)
Mini (2001-2008)
Opel (2001-2011)
Peugeot (1999-2010)
Renault (1999-2009)
Seat (1996-2010)
Skoda (1996-2010)
Vauxhall (2001-2011)
Volkswagen (1996-2010)
Volvo (1998-2008)
Asian Makes:

Honda (2001-2008)
Hyundai (2001-2011)
Kia (2001-2011)
Mazda (2001-2008)
Mitsubishi (2001-2008)
Nissan (2001-2008)
Toyota (2001-2008)



USA Makes:

Chrysler (USA only) (1996-2012)
Ford (USA only) (1996-2011)
(may also support some European Ford petrol models, but not all)
GM (USA only) (1996-2012)
Features
Vehicle coverage for more than 20 American, Asian and European vehicle makes
Read and clear fault codes on up to four electronic systems - Engine, ABS, Airbags and Automatic Transmission.
(Some car models may not offer all four systems)
Offers engine management diagnostics on all EOBD compliant cars (petrol 2001 onwards, diesel 2004 onwards)
Supports all EOBD / OBD-II diagnostic procotols including CAN.
Provides live sensor data from EOBD engine management systems, including single parameter graphs
Records EOBD live sensor data
Easy-to-use with intuitive menu-driven operation
Strong housing tough enough to survive the workshop
Demonstration video of the tool in use on a 2007 Hyundai Tucson

Package Contents
Foxwell NT600 Scan Tool
1.5m OBD connection cable (16-pin EOBD/OBD-II connector)
USB PC-link cable
Printed instruction manual
Soft padded carry case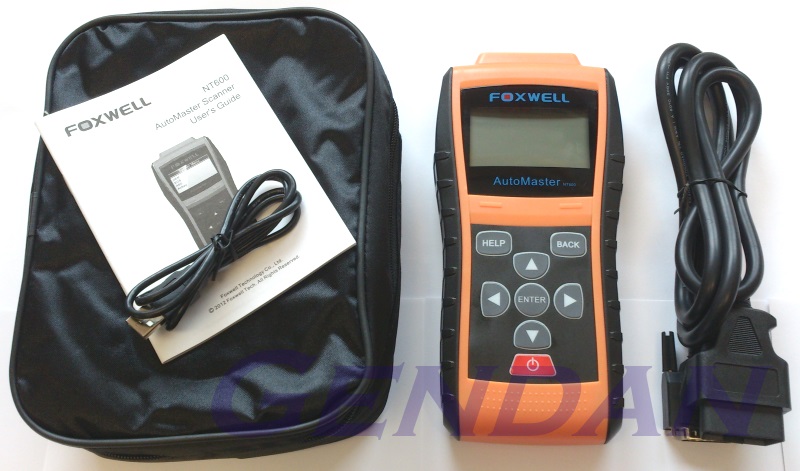 Product reviews
No reviews have been submitted for this product yet.
If you've already purchased this product, you can submit the first review
here
!