Foxwell NT500 Professional VAG Scanner - B Grade

Professional Scan Tool for Volkswagen, Audi, Seat, Skoda (1996-2014) - Factory 2nd


Product Code: FXNT500CL





Share this product






Price:

only

£ 99.95

was £ 129.95

Includes VAT! - FREE delivery!

Availability:

Out of stock, sorry

Please email for details
Product details
B Grade / Factory Second Clearance Units

We have a small number of NT500 units with minor cosmetic defects. Typically these are screen defects such as one or two 'dead pixels', slight over / under brightness of the back-light, or minor scratches to the tool casing.

The tools are still fully functional, and still come with a full 12 month warranty and 18 months of free software updates.
The Foxwell NT500 is a low-cost comprehensive handheld tool for independent garages and car enthusiasts.

Designed for Volkswagen, Audi, Seat and Skoda cars from approximately 1996 to 2014, this code reader allows the user to read and clear the Diagnostic Trouble Codes of most electronically controlled systems, and to reset oil and service lights, plus many more advanced features usually only seen in PC-based solutions.

This code reader will also read and erase engine fault codes and show live engine data on EOBD compliant cars (nearly all 2001+ petrol cars and 2004+ diesel cars, from any car manufacturer).


Benefits
Use in a garage environment or at home to quickly diagnose problems
Ideal size for mobile mechanics
Engine fault code reading and live engine sensor data on EOBD cars as well as extended functionality for VW, Audi, Seat & Skoda cars
View fault code definitions on-screen
Quick and easy to use
Hard-wearing, ruggedised design
Large colour TFT screen
UK-based email support if you experience any problems
Carry case included
Features
Read and erase Diagnostic Trouble Codes (DTC's) from most (if not all) electronically controlled systems, including Engine, ABS, Airbag, Automatic Transmission, Immobiliser and Climate Control
Turns off dashboard warning lights
Displays fault code definitions on-screen (where available)
Displays live sensor data
Displays live data graphs, including graph merging
Resets oil service indicator
Resets inspection service indicator
Supports Controller Area Network (CAN) and UDS diagnostic protocols
Performs special functions such as coding, security access, advanced datastream and more
Supports Electronic Parking Brake servicing (EPB activation/de-activation, caliper retraction and caliper advance)
Diagnoses EPB caliper functionality
Initializes the brake pad wear indicator if new pads installed
Resets the brake pad thickness after AUDI A8 service
Reads and Erases engine fault codes on EOBD compliant cars (all* 2001+ petrol cars and 2004+ diesel cars)
Display live engine sensor data on EOBD compliant cars
Multilingual menu options and code definitions
Large, backlit LCD display
No batteries required - powered from the car's diagnostic port
FREE updates for the first 18 months after registration
1 year UK warranty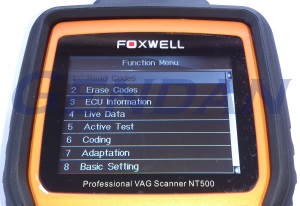 NOTE: A 2x2 pin adaptor is available for connection to some earlier VW/Audi/Seat/Skoda cars.
Package Contents:
NT500 Professional VW/Audi/Seat/Skoda Scan Tool
16-pin cable (plug code reader into car)
User manual
Soft carry case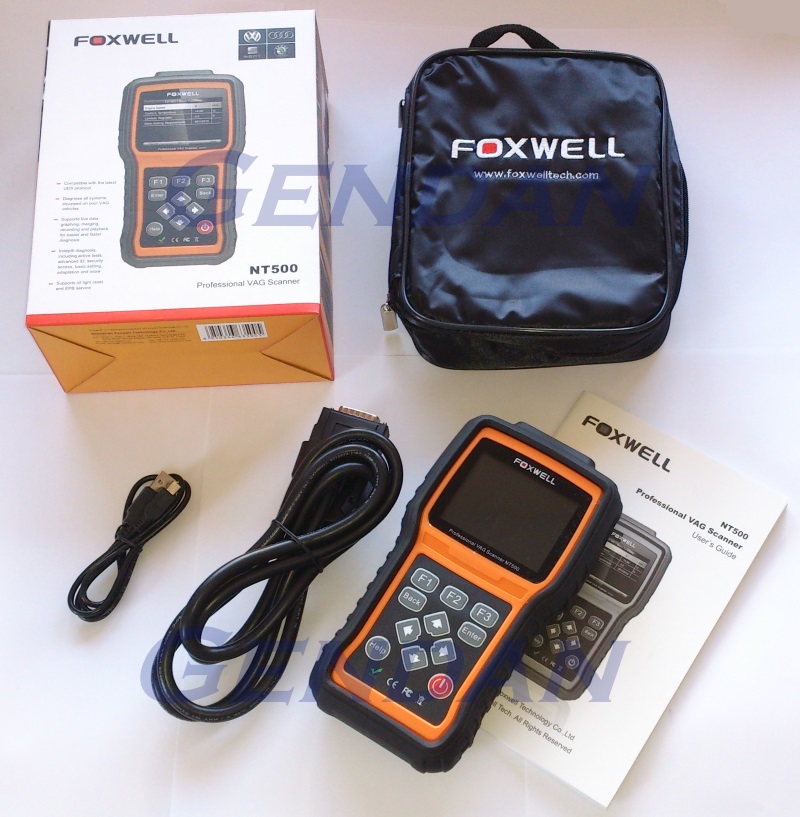 Car Compatibility
Compatible with petrol and diesel VW, Audi, Seat and Skoda cars from 1996 to 2014 (with 16-pin diagnostic port)
Support includes cars using the UDS protocol
Compatible with EOBD compliant cars for basic engine fault code reading (ALL* 2001+ petrol and 2004+ diesel UK-sold cars)
(* - passenger cars sold from new within the EU, with fewer than 10 seats and a gross vehicle weight rating of less than 2500kg)