Autel MOT Pro EU908 Diagnostic System

Autel MOT Pro EU908 Professional Scan Tool


Product Code: EU908

Product rating:
(2 reviews)

Review this product




Share this product






Price:

only

£ 574.94

was £ 598.45

Includes VAT! - FREE delivery!

Availability:

Ordered on request

Approx. 2-3 working days




Product details
Professional diagnostics without the price tag
The Autel MOT Pro EU908 is a professional level diagnostic handheld tool, offering in-depth diagnostic coverage for a vast array of car manufacturers.
Based around the technology of the best-selling
MaxiDAS DS708
diagnostic tool, this unit has been specifically designed for the European market, and includes many of the features of the DS708 but at a significantly lower price point.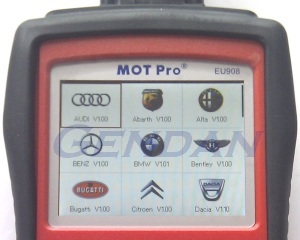 Vehicle Coverage
The tools are supplied to us from Autel with most of the software on a recent version. Currently that includes coverage for cars (with a standard 16-pin diagnostic port) from the following manufacturers:
D = Diagnostic coverage
E = Electronic Parking Brake coverage
O = Oil service reset coverage
Generic Coverage:

European Makes:

Abarth (D/O)
Alfa Romeo (D/O)
Audi (D/E/O)
Bentley (D/E/O)
BMW (D/E/O)
Bugatti (D/E/O)
Citroen (D/E/O)
Dacia (D/O)
FIAT (D/O)
Ford Europe (D/E)
Jaguar (D/E/O)
Lancia (D/O)
Land Rover (D/E/O)
Maybach (D/O)
Mini (D/E/O)
Mercedes Benz (D/O)
Opel (D/E/O)
Peugeot (D/E/O)
Porsche (D/E/O)
Renault (D/E/O)
SAAB (D/O)
Seat (D/E/O)
Skoda (D/E/O)
SMART (D/O)
Sprinter (D/O)
Vauxhall (D/E/O)
Volkswagen (D/E/O)
Volvo (D/E/O)

Asian Makes:

Acura (D)
Daewoo (D)
Honda (D)
Hyundai (D/E)
Isuzu (D)
Infiniti (D)
Kia (D)
Lexus (D/E/O)
Mazda (D)
Mitsubishi (D)
Nissan (D)
Scion (D/E/O)
Subaru (D)
Suzuki (D)
Toyota (D/E/O)



USA Makes:

Chrysler (USA only) (D/O)
Ford USA (D/E/O)
GM (D/O)
Features
Extensive vehicle coverage for more than 45 American, Asian and European vehicle makes
Deep vehicle system coverage for most electronic systems-
(typically Engine, ABS, Airbags, Immobiliser, Instrument Cluster, Climate Control, Power Steering, Automatic Transmission and more!) (please note this tool does NOT offer live data from vehicle sensors. If you require live sensor data, look at the MaxiDAS DS708 tool instead)

Supports Electronic Parking Brake (EPB) features on many makes (see above)
Supports Oil Service Reset functions on most makes (see above)
Unparalleled EOBD / OBD-II functionality - supports ALL 5 OBD-II protocols and ALL 9 test modes
Easy-to-use with intuitive menu-driven operation
3.3 inch 320 x 240 pixel TFT colour display
Ergonomic design with rubber protection and strong housing tough enough to survive the workshop
Software can be updated via the internet (PC SD Card reader required)
FREE updates for the first 12 months
Prints out recorded data using the included USB cable and PC Suite software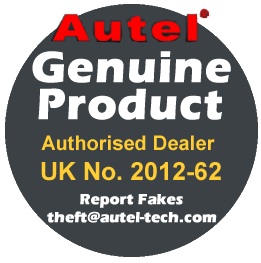 Package Contents
MOT Pro EU908 Scan Tool
1.5m OBD connection cable (16-pin EOBD/OBD-II connector)
USB PC-link cable
Printed instruction manual
PC Suite software CD
4GB SD Card
Tough plastic carry case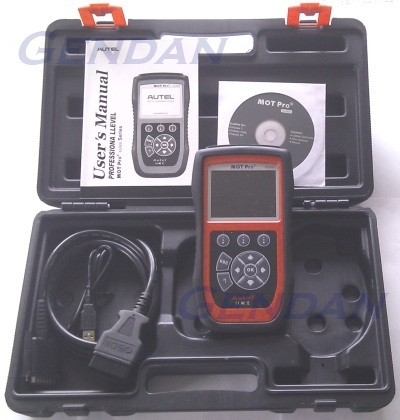 Product comparison
Below is a comparison of our 3
All Systems Professional handheld scan tools
available.
Please click a product link to view more information on the required product
Features
MOT Pro EU908
Autel

Foxwell NT644
Foxwell

Foxwell NT630
Foxwell

Price including VAT & UK delivery
£574.94
Click here
£475.00
Click here
£199.99
Click here

Recommended for Professional Use

YES
YES
YES
Vehicle Coverage
Over 50 makes
Over 50 makes
Over 50 makes
System coverage
All System
All Systems
Engine, Airbag, ABS
Live Sensor Data
Engine only
All Systems
Engine, ABS, Airbag
On-Screen text definitions of codes
YES
YES
YES
Displays Freeze-Frame data
YES
YES
YES
Graph Live Data
YES
YES
YES
Screen Size

3.3 inch
4.3 inch
4.3 inch
Free Updates

1 year
1.5 years
1.5 years
Hard carry case included
YES
YES
YES
Product link
Click here
Click here
Click here
Screenshots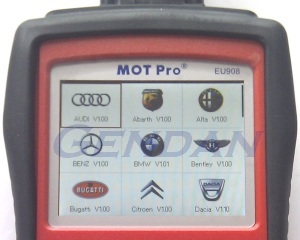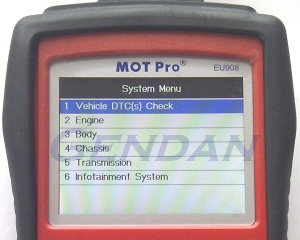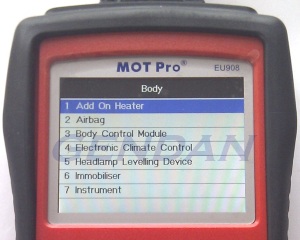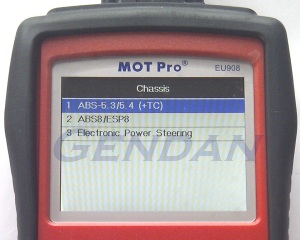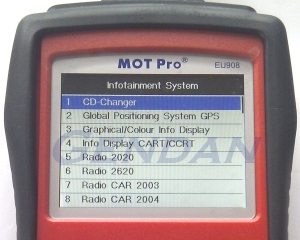 Product reviews
If you've already purchased this product, you can submit a review
here
.
| | |
| --- | --- |
| 2 customers have reviewed this product so far, with an average score of 2/5 | |
| | | |
| --- | --- | --- |
| | Displaying reviews 1 to 2 of 2 | |
Review submitted on 16/11/2013 by [name withheld]
i have had this tool for just over a year and have had problems, autel uk have been very good, the tool has just had a major update which autel uk did for me and all seems very good, if you try to update yourself you will end up sending to autel uk. Nick at autel uk has been excellent.


Review submitted on 24/06/2013 by William Lockhart
This product is really only suitable for the home mechanic its not any better than the autel md702 ive had mine since November 2012 and only had 1 update and even that is not a simple job ive had to phone autel to get it done it wont talk to Renault grand scenic 2010 autel say they are working on an update but they are very slow in this dept .if id to buy again id buy the launch diag

[Response from Gendan: The EU908 currently has over 80 updates available to download. It is worth connecting to the update server and updating your unit to the latest software. The MD702 only covers 19 car makes while the EU908 covers over 40 car makes and also offers Oil Service Reset and Electronic Park Brake functions]


| | | |
| --- | --- | --- |
| | Displaying reviews 1 to 2 of 2 | |