Connect your PC to your car - Wirelessly!
Covers 2001+ petrol cars and 2004+ diesel cars

Easy-to-use multi-protocol package to connect your Wi-Fi enabled PC wirelessly to any OBDII or EOBD compliant car (2001+ petrol car*, 2004+ diesel car*). Supplied with the free evaluation version of our EngineCheck software - EngineCheck LE (Lite Edition)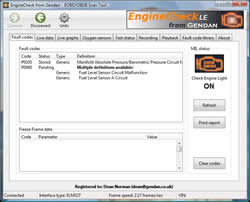 Why take your car to the dealer for a code-read? You can now read and clear your engine fault codes on your own driveway!
For more details on the full version EngineCheck software packages (which you can purchase as a download to add on to this interface cable), please visit the EngineCheck website

Please note - this is an EOBD
engine management
tool. It will
not
cover other systems such as SRS, ABS, service lights etc. as they have not yet been standardised by legislation.
What is included in the kit?
ELM327 v1.4 Wi-Fi diagnostic interface


1.8 metre cable to connect to your car (16-pin EOBD/OBDII standard socket) -
allowing you to position the Wi-Fi transceiver for optimal range


EngineCheck LE download, activation and licence details
Please note:
Software not shipped on CD - software download information sent by email.
PC Requirements
The minimum system requirements for the Gendan Wi-Fi EngineCheck software are:
Wi-Fi enabled Desktop, laptop or notebook PC capable of running Windows Vista or newer
(at least a processor running at 800Mhz or higher with 512MB RAM)
Windows Vista, 7 or 8
Approx. 25MB of hard disk space