Autel MaxiDAS DS708 Pro Diagnostic System

Autel MaxiDAS DS708 Professional Diagnosis & Analysis System


Product Code: DS708

Product rating:
(7 reviews)

Review this product




Share this product






Price:

only

£ 1,149.00

was £ 1,320.00

Includes VAT! - FREE delivery!

Availability:

Out of stock, sorry

Please email for details
Product details
Professional diagnostics without the price tag
The Autel MaxiDAS DS708 is a professional level diagnostic package, offering near dealer-level diagnostic coverage for a vast array of car manufacturers.
Based around an intuitive 7 inch touch-screen interface, this Windows CE based tool car be linked via wifi or ethernet to your workshop internet connection, so you can access technical guides and websites online while you're working on the car.
The tool also comes with 14 days free access to the full
Autodata
reference system, and
12 months totally free
access to 3 of the Autodata modules:
Manual Service Reset Procedures
Component Locations
Technical Data
Vehicle Coverage
The tools are supplied to us from Autel with most of the software on a recent version. Currently that includes coverage for cars from the following manufacturers:
Generic Coverage:

European Makes:

Abarth
Alfa Romeo
Audi
Bentley
BMW
Bugatti
Citroen
Dacia
FIAT
Ford Europe
Jaguar
Lancia
Land Rover
Maybach
Mini
Mercedes Benz
Opel
Peugeot
Porsche
Renault
SAAB
SMART
Seat
Skoda
Sprinter
Vauxhall
Volkswagen
Volvo




Asian Makes:

Acura
Daewoo
Honda
Hyundai
Isuzu
Infiniti
Kia
Lexus
Mazda
Mitsubishi
Nissan
Scion
Subaru
Suzuki
Toyota



USA Makes:

Chrysler (USA only)
Ford USA
GM





For model-specific vehicle coverage details, there are manufacturer-specific coverage lists in Adobe PDF format available from this page.
Features
Extensive vehicle coverage for more than 40 American, Asian and European vehicle makes
FREE updates for at least the first 12 months
Deep vehicle system coverage for most electronic systems
Complete function capability including live data, actuation, even ECU programming on many models
Unparalleled EOBD / OBD-II functionality - supports ALL 5 OBD-II protocols and ALL 9 test modes
Innovative dual-processor technology for quicker diagnostics and boot-up
Automatic Wi-Fi updates available in new software releases
Genuine Windows CE operating system allows for stable performance, compatibility and expandability
Wi-Fi internet capability allows for wireless access throughout the workshop
Internet Explorer installed - access technical websites and online resources while you work on the car
Advanced USB communication for faster operation and more accurate diagnostics
Extremely easy-to-use with touch-screen operation and intuitive operation
7 inch 800 x 480 pixel TFT color display provides better view of test results, graphs, web pages etc.
Unique ergonomic design features multi-layered rubber protection and strong housing tough enough to survive the workshop
Intelligent memory of vehicles for easy and quick diagnosis of tested vehicles
Captures, saves and prints screenshots for convenient troubleshooting
Displays live data in text, graph and analog views for easy data review and analysis
Records and plays back live data to pinpoint sensor and component problems
Innovative graph merging for easy and quick detection of intermittent problems
Automatic Wi-Fi Data Logging for quick and accurate technical support and troubleshooting
Built-in overvoltage protection prevents damage to the tool and the vehicle
VNC remote control software built in, to allow control over a network from a PC, for convenient demonstration and training
Powered by Autel® Uni-SCANTM technology with no need for extra adaptors or "keys"
Prints out recorded data any time and anywhere with Wi-Fi printing capability
Now with 2 Year Warranty
Official Autel USA promotional video:
Package Contents
MaxiDAS DS708 Touchscreen tool
1.6m OBD connection cable
16-pin EOBD/OBD-II adaptor
BMW 20-pin adaptor
Citroen/Peugeot 2-pin adaptor
FIAT 3-pin adaptor
GM/Daewoo 12-pin adaptor
Honda 3-pin adaptor
Kia 20-pin adaptor
Mazda 17-pin adaptor
Mitsubishi/Hyundai 12+16-pin adaptor
Nissan 14-pin adaptor
Mercedes Benz 38-pin adaptor
Toyota 17-pin adaptor
Toyota 23-pin adaptor
VW Audi 2x2 adaptor
Cat-5 Ethernet network cable
Cigarette lighter socket power adaptor
110-240v mains adaptor, with 3-pin UK plug
4GB SD Card
USB 2.0 SD Card Reader
Tough plastic carry case with protective soft insert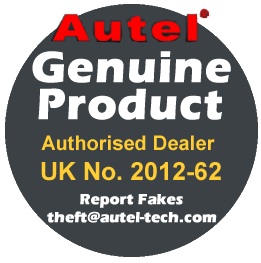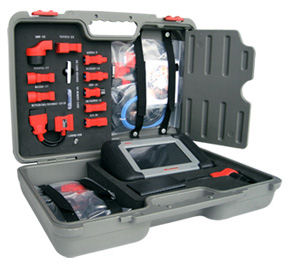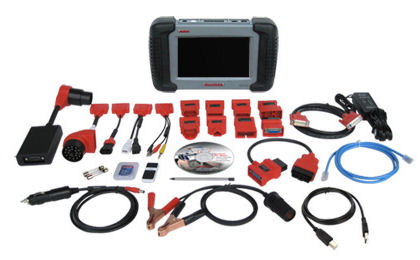 Please note - Autel occasionally update the selection of adaptor cables that are supplied
with the tool, so the adaptor selection shown in the pictures may vary slightly from those
supplied - please read the Package Contents list above for an up-to-date list.
Product comparison
Below is a comparison of our 3 top-end professional tools.
Please click a product link to view more information on the required product
Product Name

MaxiDAS DS708

MaxiSys Mini MS905

MaxiSys MS908

Price (inc. VAT & UK delivery)
£1320.00
(inc VAT and delivery)
Click here
£1945.00
(inc VAT and delivery)
Click here
£2390.00
(inc VAT and delivery)
Click here
Processor
Samsung S3C2440 ARM9 Processor 400 MHZ
Samsung Exynos Quad-Core Cortex-A9 Processor 1.4GHz
Samsung Exynos Quad-Core Cortex-A9 Processor 1.4GHz
Operating system
Windows CE
Android 4.0 Ice Cream Sandwich
Android 4.0 Ice Cream Sandwich
Internal storage
None
(4GB SD Card Storage)
32GB SSD
(with SD Card expansion slot)
32GB SSD
(with SD Card expansion slot)
Display
7.0" 800×480 TFT Resistive Touch Screen
7.9" 1,024 x 768 LED Capacitive Touch Screen
7.9" 1,024 x 768 LED Capacitive Touch Screen
Connectivity
USB 2.0; Ethernet; Wi-Fi
USB 2.0; Wi-Fi; Bluetooth
USB 2.0; Ethernet; Wi-Fi; Bluetooth
Wi-Fi
802.11 b/g/n - 2.4 Ghz
802.11 b/g/n - 2.4 & 5 Ghz
802.11 b/g/n - 2.4 & 5 Ghz
Battery
None
5000 mAh 3.7V Lithium Polymer
11000 mAh 3.7V Lithium Polymer
Weight
2.95lb (1.1kg)
1.54lb (0.70kg)
3.12lb (1.42kg)
Camera
None
5.0 Megapixel, AF with Flash
5.0 Megapixel, AF with Flash
Connection to car
Cabled
Wireless
Wireless
Boot up time
40 seconds
20 seconds
20 seconds
Manufacturer coverage
40+
40+
40+
AutoVIN technology
No
YES
YES
MaxiFix Cloud-Based Information System
No
YES
YES
Updates included
12 months
12 months
12 months
Telephone support
12 months
12 months
12 months
UK warranty
24 months
12 months
12 months
Product link
Click here
Click here
Click here
Comparison of the size of the MaxiSys MS908 (left) and MaxiDAS DS708 (right)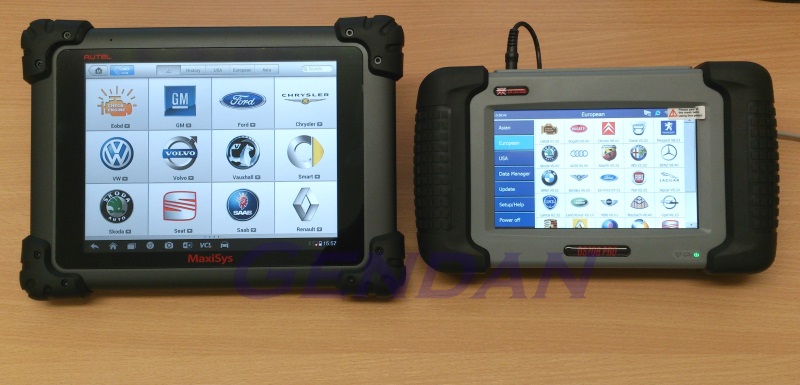 Product specifications
Specifications
 
Operating System
Windows CE
CPU
ARM9 + ARM7 dual processor
Memory
Max. 4 Gigabyte SD card
Communication Interface
OBD, USB, Ethernet
Input Voltage
8.0-32.0V power provided via vehicle battery
Power Consumption
24W
Operating Current
350mA
Display
Backlit, 7" TFT (800*480 dpi) color display with touchscreen
Operating Temperature
0 to 60°C (32 to 140 F°)
Storage Temperature
-10 to 70°C (14 to 158 F°)
Operation
Touchscreen and one rubber key (ON/OFF)
Printer Interface
Wi-Fi, USB, Ethernet
Housing
Strong plastic housing with protective rubber boot
Dimension
282mm (11.10") x 163mm (6.42") x 60mm (2.36")
Weight
approx. 2Kg (4.41lbs)
Protocols
ISO 9141-2, K/L lines, flashing code, SAE-J1850 VPW, SAE-J1850 PWM, CAN ISO 11898 
ISO15765-4, Highspeed, Middlespeed, Lowspeed and Singlewire CAN
Software updates
Software updates are free for 12 months from the date you register the tool with Autel.
At the end of the 12 month period, the tool doesn't 'time out' - it will continue to function on the currently installed software versions - you will just be unable to access the update server.
Should you wish to continue updating the tool, you can purchase a 12 month software update package (which also includes 12 months access to three Autodata modules) on
this page
.
You can purchase the update package at any time after your initial subscription expires. It doesn't matter if you leave some time between the expiration and purchasing the update, as you will not be charged for the time in between. The update package will give you 12 months of updates from the date you purchase it.
Product reviews
If you've already purchased this product, you can submit a review
here
.
| | |
| --- | --- |
| 7 customers have reviewed this product so far, with an average score of 5/5 | |
| | | |
| --- | --- | --- |
| | Displaying reviews 1 to 5 of 7 | |
Review submitted on 18/08/2013 by Brett Hart
Well made unit with excellent vehicle coverage. I was looking for the best tool for the best price and gendan have it with this kit. With gendan support and after sales, easy updates and great service this is the kit to buy and the place to buy from.


Review submitted on 09/10/2012 by Stephen Hewitt
found very easy to use purchased tool to replace x431 half the price of x431 seems to have comparable software loaded. easy update always find this helps as i am not that good on pcs.


Review submitted on 08/08/2012 by [name withheld]
Well after much deliberation I decided on the MaxiDAS DS 708.
I wasnt disappointed. (bought from the right place too!)
Having looked at all the usual front runners, for me, this tool came out on top for coverage and.... best of all.... update costs.
Very easy to set up and so easy to update. Fast delivery and a pleasant company to deal with. A great tool and great value for money i think.


Review submitted on 28/11/2011 by Ranj
Bought this after a great deal of research and found another company rebrand this unit and sell it for nearly 3 times as much. BRILLIANT TOOL at a FANTASTIC Price!!


Review submitted on 11/11/2011 by Mat Foster
The biggest problem with electronic diagnostics has always been knowing which tools to buy to give maximum coverage. Luckily with this tool it really does cover a wide range of vehicles meaning it's probably the only thing you'll need if like me you work on many different makes models & require full access to almost all electronic systems fitted to modern vehicles today.

Excellent piece of kit & Great value for money.


| | | |
| --- | --- | --- |
| | Displaying reviews 1 to 5 of 7 | |