Foxwell Pro NT644 ALL System Scan Tool - Ex Demo

Foxwell NT644 Professional Diagnostic System - All systems on 50+ makes, Service & EPB - Ex Demo


Product Code: FXNT644CL





Share this product






Price:

only

£ 400.00

was £ 450.00

Includes VAT! - FREE delivery!

Availability:

In Stock!
Shipped same working day.




Product details
** This is an Ex-Demonstration unit. It is in 'as new' condition and comes with 12 months warranty and lifetime updates. It has been used by our sales team for demonstrations in-house **
Foxwell NT644 Pro Professional Diagnostic System
Diagnose ALL car systems on over 50 car makes
Professional Handheld Scan Tool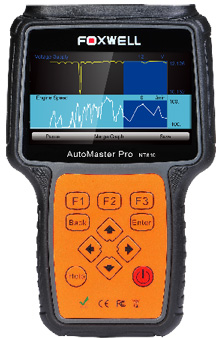 Product details
Professional diagnostics without the price tag
The Foxwell NT644 Pro is a professional level diagnostic handheld tool, offering comprehensive system coverage for a vast array of car manufacturers.
This unit has been specifically designed for the European market, and includes many high-end features such as
Electronic Park Brake
wind-back functions and
Service Light
reset functions.
Sample Screenshot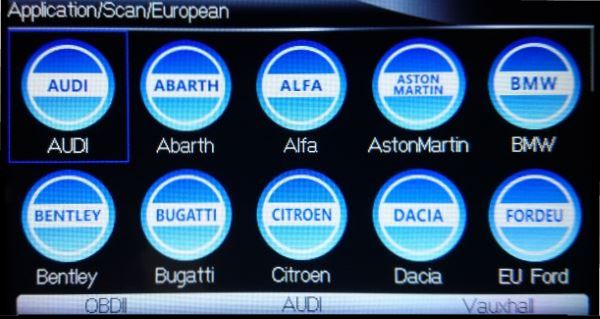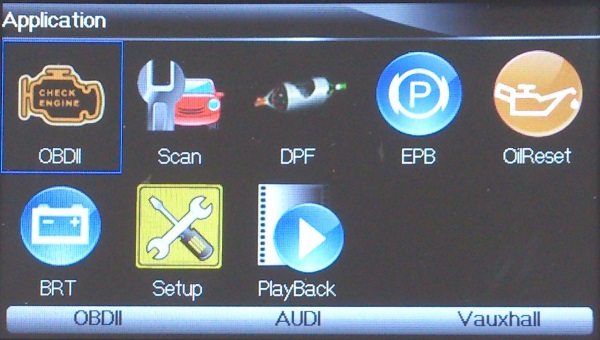 The tools are supplied to us from Foxwell with most of the software on a recent version. Currently this includes coverage for cars (with a standard 16-pin diagnostic port) from the following manufacturers:
D = Diagnostic coverage
E = Electronic Parking Brake coverage
O = Oil service reset coverage
P = DPF (Diesel Particulate Filter) functions available
B = Battery replacement/validation functions available
Generic Coverage:

European Makes:

Abarth (D/O)
Alfa Romeo (D/O/P)
Audi (D/E/O/P/B)
Bentley (D/E/O/P)
BMW (D/E/O/P/B)
Bugatti (D/E/O/P)
Citroen (D/E/O/P/B)
Dacia (D)
Fiat (D/O/P)
Ford Europe (D/E/O)
Jaguar (D/E/O/P)
Lancia (D/O/P)
Land Rover (D/E/O/P)
Maybach (D/E/P)
Mini (D/E/O/P)
Mercedes Benz (D/E/O/P)
Opel (D/E/O/P)
Peugeot (D/E/O/P/B)
Porsche (D/E/O)
Renault (D/E/O/P)
SAAB (D/E/O)
Seat (D/E/O/P/B)
Skoda (D/E/O/P/B)
SMART (D/O)
Sprinter (D/O/P)
Vauxhall (D/E/O/P)
Volkswagen (D/E/O/P/B)
Volvo (D/E/O/B)

Asian Makes:

Acura (D/E/O/P)
Daewoo (D)
Honda (D/E/O/P)
Hyundai (D/E/O)
Isuzu (D/O)
Infiniti (D/O/P)
Kia (D/E/O)
Lexus (D/E/O/P)
Mazda (D/O)
Mitsubishi (D/O/P)
Nissan (D/O/P)
Perodua (D)
Proton (D)
Scion (D/E/O/P)
Subaru (D)
Suzuki (D/O)
Toyota (D/E/O/P)



USA Makes:

Chrysler (USA only) (D/O/P)
Ford USA (D/E/O)
GM (D/E/O/P)
Features
Extensive vehicle coverage for more than 50 American, Asian and European vehicle makes
Compatible with 2012/2013 models on most makes
Deep vehicle system coverage for most electronic systems-
(typically Engine, ABS, Airbags, Immobiliser, Instrument Cluster, Climate Control, Power Steering, Automatic Transmission and more!)
Provides live sensor data from a wide range of systems
Merges graphs for easier fault diagnostics
Records live sensor data
Supports Electronic Parking Brake (EPB) features on approx 13 makes (see above)
Supports Oil Service Reset functions on approx 32 makes (see above)
Unparalleled EOBD / OBD-II functionality - supports ALL 5 OBD-II protocols and ALL 9 test modes
Easy-to-use with intuitive menu-driven operation
4.3 inch TFT colour display (480*272 pixel)
Strong housing tough enough to survive the workshop
FREE updates for the first 1.5 years after registration
View recorded data on tool or copy to PC for printing
Package Contents
Foxwell NT644 Pro Scan Tool
1.5m OBD connection cable (16-pin EOBD/OBD-II connector)
USB PC-link cable
Printed instruction manual
16GB SD Card (inside tool)
Tough plastic carry case